In the spring of 2015, there were 64 at risk seniors who were part of the OTC Middle College program. All but one of those students completed the program, graduating from high school and the middle college program. Currently, 90 percent of those students are either enrolled to begin college in the fall or have begun working at a job, successfully moving forward in their career path.
Chandler Deeds is one of those 63 graduates and will be starting classes this fall at OTC. Through the mentoring programs and service learning projects at OTC Middle College, she has discovered her passion for medicine and animal care. What does her future hold? "Something to do with helping animals, maybe marine biology" says Chandler.
As a child, Chandler was active and happy. Being involved in the youth soccer program at Ozarks Regional YMCA, she made friends and learned the value of teamwork. As she entered middle school, life changed. Her parents wee getting divorced and as the family structure changed she began to struggle at school, becoming disconnected and withdrawn. "Times were hard," said Chandler. "My mom is a good mom, but she was overwhelmed with all the hard stuff" like financial and emotional struggles.
Stepping into the roll of second "parent" for her younger sister and trying to work through her own emotions meant Chandler became less and less interested in school. She began to lose the ability to see any hope for a future beyond her current situation. It seemed she would be lost in her struggles forever, until her high school counselor gave her two very important connections. Ozark Counseling Center and OTC Middle College are resources that would change Chandler's life. Sometimes you just need someone to listen and help you sort through all the things that are overwhelming. "I got a lot of support from OCC, they really helped me feel better," says Chandler of her experience with the counseling center.
As a struggling high school student with a lot of potential, Chandler was connected to the OTC Middle College program. After a visit to campus and a lot of thinking, Chandler entered her application and was accepted into the program. "I was struggling in high school and my situation was not fun, but at least I knew what to expect. Moving outside my comfort zone, of discomfort, was scary," she said.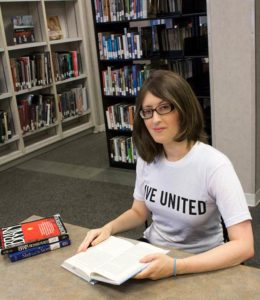 "Motivation is big-emotionally I am in a better place. Feeling like people care about what happens to me makes ME care about what happens," says Chandler. "When you fell like you matter, you can get stuff done. Now I have a better idea what I want to do and where I want to go because I care about my future and have goals for my life. United Way of the Ozarks has given me opportunities for my future."
This is the story of success. This is the story of how working together can create positive change for people right here in our communities. Chandlers story IS the United Way story.
To learn more about the partner agencies listed in this story please click the links to be redirected to their websites.